Book Review: Do More Better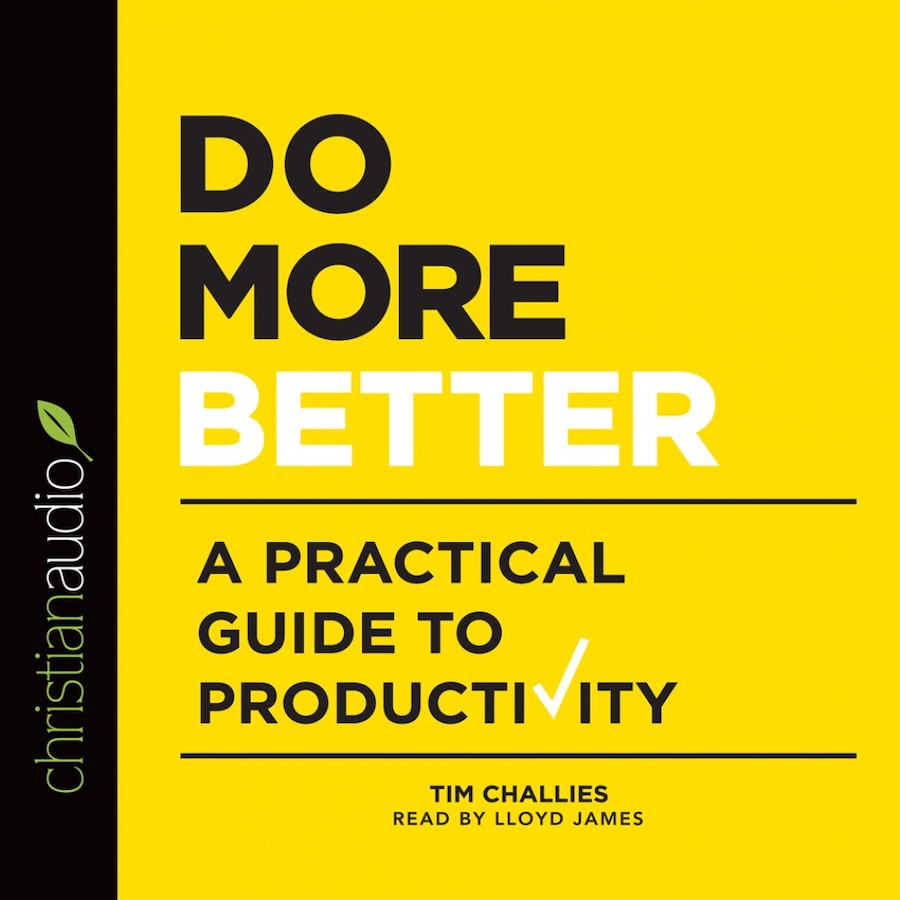 A few weeks ago, I wrote that listening to audiobooks had helped me to actually get through entire books with some level of continuity and comprehension. Well, this week I finished yet another audiobook and really enjoyed it!
This time, I went for a title more along the lines of business and productivity with Tim Challies' Do More Better. 
I've picked up a handful of productivity books, the most famous being David Allen's Getting Things Done, and I have experienced some level of success in implementing various systems and tools. In fact, I have purchased at least four different task management software tools in the past six years, and some were quite expensive. To say I'm a bit of a productivity nut and have heard most of what there is to hear about systems and tools is probably an understatement. However, Do More Better struck a chord with me, for a couple of reasons.
A Necessary Reset
Most of my systems have fallen into terrible disarray after a very busy 2018. Thanks to a long and stressful project at work that took me close to burnout, I started into the last quarter of 2018 rather unmotivated and pessimistic towards things like productivity. By the time the new year rolled around, I knew something needed to change. Each day was a battle with distraction that I often lost, and it really seemed like my "edge" was gone. Ironically, my hopes weren't high that I'd really get something out of this book
A God-Centered Perspective
I found it super refreshing to read listen to a book that took a Christian perspective on the topic of productivity, and not the pop-culture "Christian" flavor that tacks a few Bible verses onto a predominantly secular message. Instead, Challies starts the book centered around the theme of God's Glory and the Gospel, with a few helpful reminders that our goal as Christians is to "glorify God by serving others". Usually, something like this feels "tacked-on", but I really appreciated the message and the perspective. It gave purpose to the focus on productivity, and a context that expanded beyond simply "getting stuff done" to actually caring about and serving people.
Helpful Takeaways
My big takeaways came from actually sitting down to define my areas of responsibility and my roles, along with mission statements, and then plugging these details into my tools of choice. Since I was listening to the book while taking lunchtime walks, this usually happened shortly after I got back to the office and while I hurriedly scarfed down a quick meal. My current set of tools includes Things as my task management tool, Apple Calendar for my scheduling tool, and DEVONthink Pro Office as my information management tool. So far, things are working really well, and I'm really enjoying the regular routine of a daily review (or "Coram Deo", as Tim Challies calls it) to really start the day off in the right way.
I'm also thrilled to have my email inbox(es) down to zero, thanks to the awesome ideas in the bonus chapter. I simply ditched my fruitless attempts to file emails in folders, and just opted for the massive Archive. So far, it's working great, and I feel like I have an amazing amount of control over my email. It has been fantastic. I even mentioned Do More Better to my sister the other day and she said she had read it before, immediately praising the benefits of getting to inbox zero.
Final Thoughts
Overall, I would recommend the book to anyone who is looking to improve their productivity and do so within a Christian worldview. I felt that the narrator of the book did a fairly good job, although there were cases when he misread a few things and definitely emphasized sentences in a way that detracted from the point that the author was obviously trying to make. Otherwise, it was a great experience and I'm super glad I checked it out on Hoopla in the last few weeks.