Awareness of Persecution
This morning, my oldest son drew a picture in his notebook about the church in China that showed worshippers praying in a church, with government soldiers looking in the windows, presumably preparing to disrupt the service.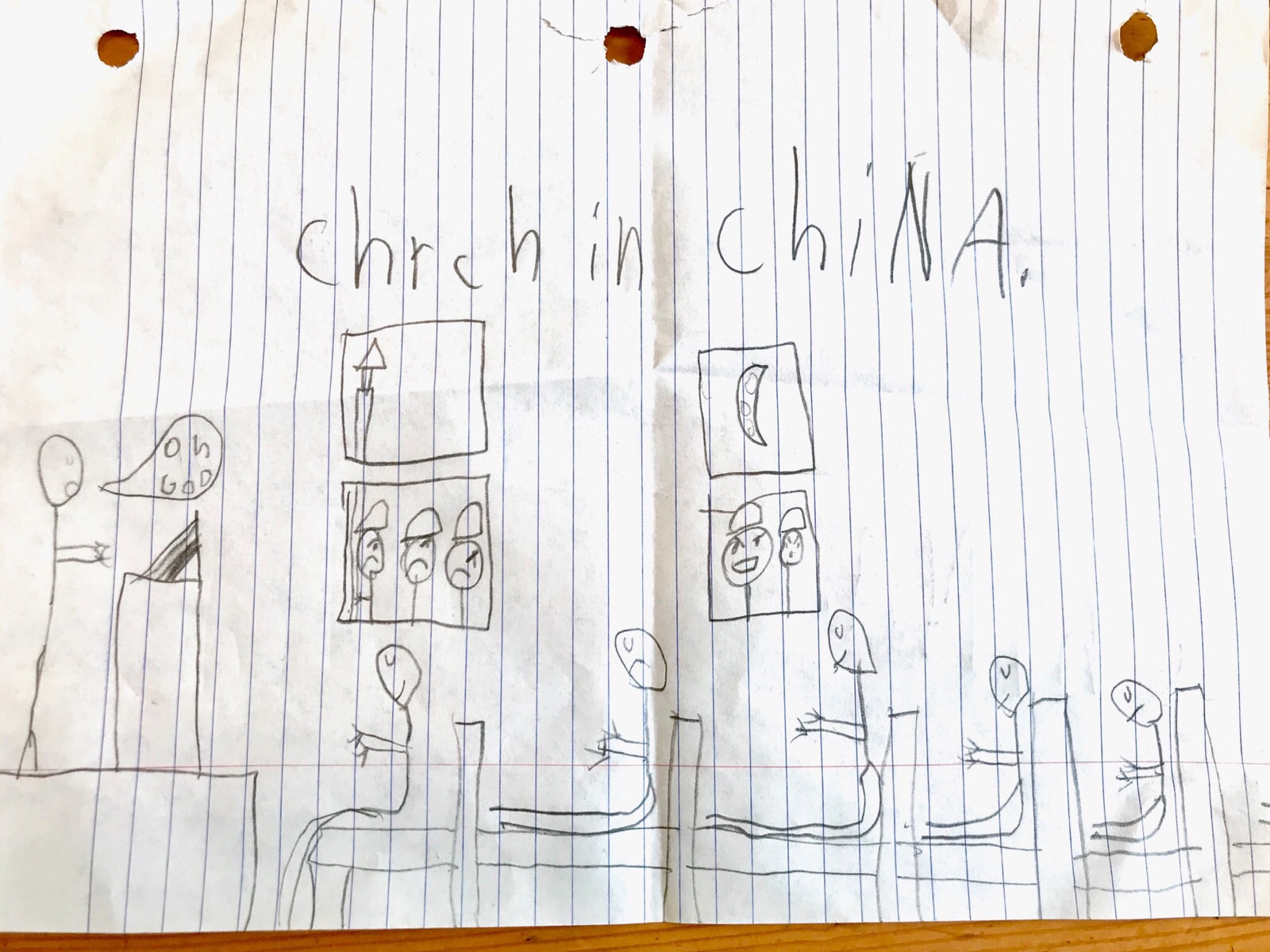 I think this topic was on his mind because one of his aunties had recently told him about persecuted Christians in China. This caught my attention since I hadn't seen any major headlines in the news about persecution or specific incidents with the Chinese church. Upon looking up the topic, I found this article from the Gospel Herald, published yesterday. A quote from the article:
The CCP believes the Church is a de-stabilizing force, but not because it is bad; in fact, local communities and authorities tend to believe Christians are good people. Some suggest that because Christians' allegiance is first and foremost to God and not the Communist Party, there is a conflict of interests that the party believes can potentially hinder the process of unification. Others are more concerned by what they perceive as potential 'chaos' arising from the huge number of Christians.

- Aaron Ma, researcher for Open Doors International
The kind of things the government in China is doing to churches are unsettling: requiring them to display the national flag and a picture of the president, non-locals are not allowed to preach, and children are forbidden from attending church. There are pictures around the internet from the last four years or so of crosses being removed from churches in China by government workers.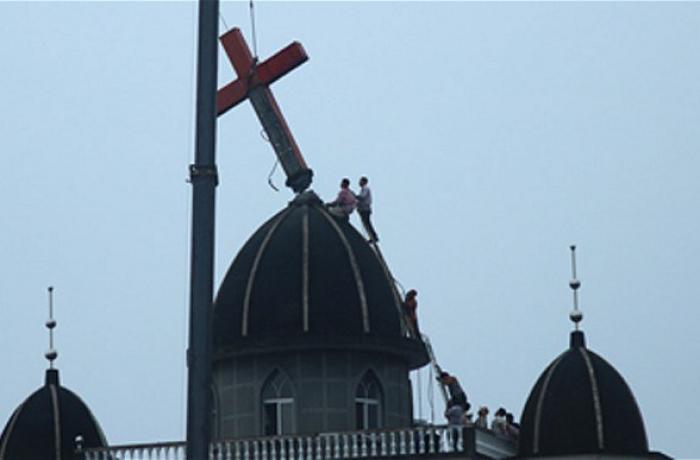 Obviously, removing the imagery of Christianity is one thing, likely to be more offensive to those in the Catholic denominations. However, efforts to keep children out of church and forbidding non-locals from preaching is a much more conspicuous attempt to cut off the growth of Christianity in China. This inevitably will result in more persecution of the underground Chinese home-church movement, which is the natural place for believers to go if the government makes it illegal to worship with your family.
Since reading these articles, I've been pondering the reality of persecution, and how unaware I have been of the kind of suffering of Christians around the world. It's such a contrast to the flaccid, comfortable life that we enjoy in America, and this kind of lifestyle makes it hard to imagine that others in the body of Christ are going through something as difficult and oppressive as what our brothers and sisters in China are experiencing. I guess I've always had the understanding that there are persecuted believers around the world, but the fact that it doesn't specifically affect me or my family seems to make it less serious in my mind.
This is likely because I'm not hearing about it on the news1, but also because of the tendency of our culture to be so focused on humor, pop culture, and entertainment. As John Piper recently articulated in an interview on the Ask Pastor John podcast:
We're always turning things upside down and getting them backwards. This is the first thing: my own sinful nature inclines me to make light of weighty things and to make weighty superficial things. …What I'm lamenting when I plead for joyful seriousness is that it seems to me the pendulum has swung so far in one direction that we are far more adept at humor than tears.

- John Piper, Three Threats to the Joy of This Generation
Thanks to my son's thoughtful artistry this morning, I'm reminded again about the reality of persecution in our world, and of God's purpose in allowing suffering and trials. Even now, I'm praying that God will be glorified and that He will continue to give courage and strength to persecuted Christians in China and around the world. I'm also planning to follow the news of persecution in other countries more closely, with the intent of becoming more aware of the suffering in the body of Christ around the world.
---
It seems that all the news headlines recently are about President Trump, various scandals and investigations, or other random stuff that likely won't be worth talking about in a few days. ↩︎